Shipping your classic car economically with open transport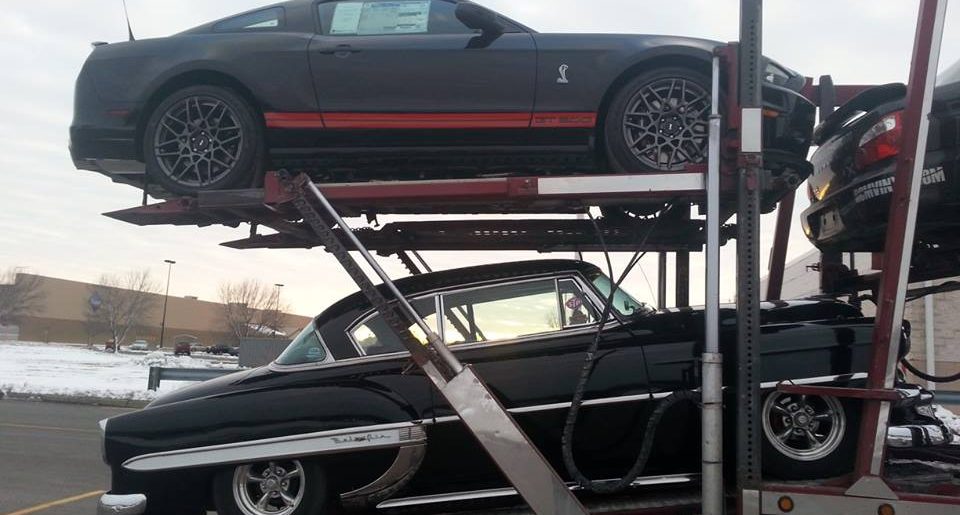 The open trailer is the auto transport industry's work horse. The majority of auto shipping done in the U.S. is done via the open trailer. Bulldog Trucking's fleet of trailers feature nine-car Cottrell trailers, better known as "stingers." For that reason, it is perhaps it is also the most recognizable form of auto transport to the average person. So if you're planning shipping a car, you will likely be using open car shipping.
Safe and Standard Shipping
There's a good reason why most car shipping is done with an open trailer — open car shipping is an excellent way to ship. It is relatively cheap compared to the alternatives (enclosed trailer shipping costs approximately 50 percent more), and it is extremely flexible (open trailers have been used for 50-plus years to conduct direct auto transport.) If you need fast shipping at the most economic rates possible, then open car shipping is the most reasonable option for you.
Smooth and Reliable
Contrary to commonly held opinion, open car shipping is nearly as safe as enclosed, but it is cheaper and more widely available. While enclosed auto transport is perfect for high end, low clearance vehicles, open car shipping is ideal for just about everything else. Don't think open car shipping is good enough for your vehicle? Consider this: nearly every vehicle that's ever been produced in the U.S. arrived at the dealership on an open trailer. If you're still concerned, just remember the most common hazard of open transport is road debris covering your vehicle with dirt during transport.
Cost Effective Car Shipping
If you're looking for the most bang for your buck, then open trailer car shipping is without a doubt the best direction to go.
Compare open car shipping to enclosed auto transport, for example. Enclosed auto transport trailers can only comfortably house four-six vehicles per trip. Open trailers, on the other hand, can house eight-10 vehicles comfortably, increasing the efficiency of each trip. This allows you to get excellent shipping at affordable rates. Open car shipping is also priced on scale, so shipping multiple vehicles on one trip will get you a better rate per vehicle.
Interested in Open Car Shipping with Bulldog Auto Transport?
Bulldog Auto Transport specializes in coordinating open car shipping, whether it's on one of our trucks, or all over the nation through our network of transport partners. If you're interested in using a reliable auto transport company that prides itself on customer service, then call us today at 888-514-4005 or fill out the form below and receive your FREE custom domestic vehicle shipping quote from us today.