It's snowbird season: Let's talk auto transport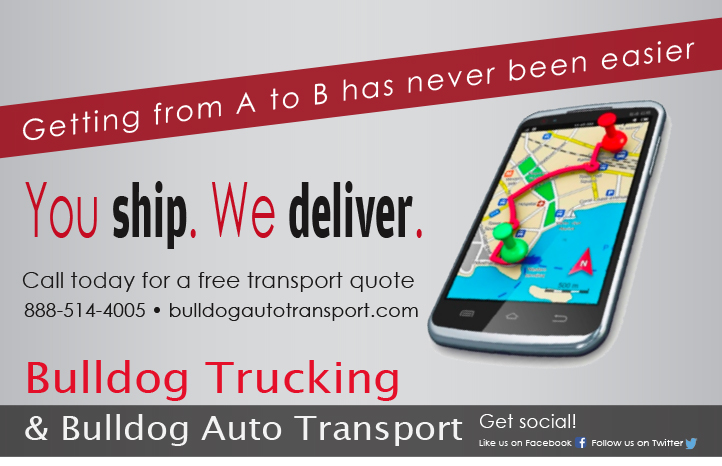 It's that time of year again.
And, no, we're not referring to the birds migrating back north — not actual birds, anyway. We're talking about our "snowbird" clients returning home for the spring and summer months.
Snowbird season is when people from the northern and mid-western states head back home from states like Florida, Texas, Arizona and California You avoided the cold weather during the fall and winter, it's time to move back up as the weather becomes warmer. Snowbirds are typically retirees and younger professionals who have jobs tied to seasonal tourist. Here at Bulldog Trucking and Bulldog Auto Transport we specialize in getting your vehicle delivered right to your driveway for snowbirds.
During this season, snowbirds find it hard to find an available car carrier and even harder to find one that's at a cost effective price. Bulldog Trucking and Bulldog Auto Transport take the headache out of hauling your car, and we strive to secure the best rate available at the same time.
Bulldog Trucking built its reputation — and large customer base — transporting snowbirds. Our snowbird client base is the backbone of our trucking company. Over the past two years, Bulldog Auto Transport, which offers nationwide shipping through out expanded network of transport partners, has built a new snowbird customer base, including California, Texas and Florida.
We wanted to take some time to discuss a few reasons why choosing an auto transport company is a sound decision for snowbirds. Benefits include:
• Save money! When shipping your vehicle from one state to another snowbirds can incur costs such as gas, hotels, food, and even unexpected auto repairs due to extra wear-and-tear, miles, flat tires, weather etc and renting a car can be even more costly. With High Standards Auto Transport our car shipping specialists gets you the most cost effective flat rate and you don't have to worry about anything else.
• No extra miles or wear-and-tear on your vehicle! Our carriers and partners offer door-to-door pick up and deliver for your vehicle, a tradition of Bulldog Trucking. And if your street or neighborhood is not accessible by our truck, our routing and dispatch teams works with you to locate a designated meeting point nearby. Our drivers are willing to unload your car and drive it to you driveway!
• Save time! Why spend your precious time on driving and doing extra planning when we can do it for you at a cheaper price that you doing it yourself? Our carriers come to you and deliver the vehicle at the location you choose so you can sit back and enjoy your coffee. We also have a new guaranteed pickup option available starting at $99 plus your quote price in the event your schedule is tight. Remember, our trucks fill up fast, but if you haven't booked yet, we can arrange for a local transport company to pick up your vehicle until our truck arrives.
• Less risk! It's more of a gamble driving long distance yourself for problems to arise, such as bad weather conditions, traffic tickets, and vehicle maintenance. With Bulldog Trucking and Bulldog Auto Transport we take your vehicle off its wheels so both of you can relax while our professional car carriers ship it right to your destination.
If you haven't booked your spring transport, now is the time to call 888-514-4005 to reserve your spot. And if you have booked, great! And thank you for your continued business.
The booking process is as simple as calling Ashley at ext. 101 or Meagan at ext. 102 to discuss available dates, review fill out, sign and return our contract by email or fax to 1-800-673-8609. That's it! And, as always, you do not owe anything up front.
If your schedule does not match up with our pick up and delivery schedule, that's OK. We can setup your transport with one of our preferred transport partners, and, as mentioned, we can offer guaranteed pick up starting at $99.
We have payed attention to your suggestions through the years. It's our goal to make your transport as easy as possible. We can't thank all our snowbirds enough for your business. We always welcome your opinion and suggestions. Drop us a line at cdyer@bulldogautotransport.com or call 888-514-4005.
From Jill, Ashley, Meagan, Betty, Cody, James and our staff of drivers and mechanics, thank you all and happy snowbird season!
Get A Quote Now!